Gun Safety: Own it. Respect it. Secure it.
Hunting seasons may change but one thing remains the same - gun safety. Outdoor Underwriters would like you to keep the following gun safety tips in mind while you are enjoying the great outdoors. You are the key to firearms safety.
Please take a few moments to review the basics of safe gun handling and storage: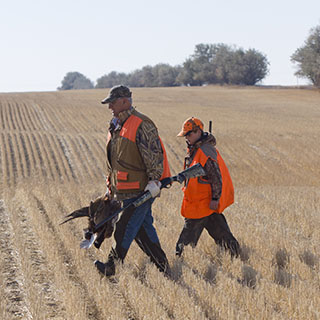 Always keep the muzzle pointed in a safe direction.

Never point your gun at anything you do not intend to shoot. This is particularly important when loading or unloading a firearm. In the event of an accidental discharge, no injury can occur as long as the muzzle is pointing in a safe direction.

Firearms should be unloaded when not in use.

Unload your gun as soon as you are finished. A loaded gun has no place in or near a car, truck or building. Unload your gun immediately when you have finished shooting, well before you bring it into a car, camp or home.

Treat every gun as though it can fire at any time.

Never touch the trigger on a firearm until you actually intend to shoot. Keep your fingers away from the trigger while loading or unloading. Never pull the trigger on any firearm with the safety on the "safe" position or anywhere in between "safe" and "fire." It is possible that the gun can fire at any time, or even later when you release the safety, without you ever touching the trigger again.

Be sure of your target and what is beyond it.

No one can call a shot back. Once a gun fires, you have given up all control over where the shot will go or what it will strike. Don't shoot unless you know exactly what your shot is going to strike. Be sure that your bullet will not injure anyone or anything beyond your target. Firing at a movement or a noise without being absolutely certain of what you are shooting at constitutes disregard for the safety of others.

Use the correct ammunition.

Discharging firearms in poorly ventilated areas, cleaning firearms or handling ammunition may result in exposure to lead and other substances known to cause birth defects, reproductive harm and other serious physical injury. Have adequate ventilation at all times. Wash hands thoroughly after exposure.

If your gun fails to fire when the trigger is pulled, handle with care.

Using improper or incorrect ammunition can destroy a gun and cause serious personal injury. It only takes one cartridge of improper caliber or gauge to wreck your gun, and only a second to check each one as you load it. Be absolutely certain that the ammunition you are using matches the specifications that are contained within the gun's instruction manual and the manufacturer's markings on the firearm.

Always wear eye and ear protection when shooting.

Wearing eye protection when disassembling and cleaning any gun will also help prevent the possibility of springs, spring tension parts, solvents or other agents from contacting your eyes. There is a wide variety of eye and ear protectors available. No target shooter, plinker or hunter should ever be without them.

Be sure the barrel is clear of obstructions before shooting.

Before you load your firearm, open the action and be certain that no ammunition is in the chamber or magazine. Be sure the barrel is clear of any obstruction. Even a small bit of mud, snow, excess lubricating oil or grease in the bore can cause dangerously increased pressures, causing the barrel to bulge or even burst on firing, which can cause injury to the shooter and bystanders.

Don't alter or modify your gun and have them serviced regularly.

Firearms are complicated mechanisms that are designed by experts to function properly in their original condition. Any alteration or change made to a firearm after manufacture can make the gun dangerous and will usually void any factory warranties. Do not jeopardize your safety or the safety of others by altering the trigger, safety or other mechanism of any firearm or allowing unqualified persons to repair or modify a gun.

Learn the mechanical and handling characteristics of the firearm you are using.

Not all firearms are the same. The method of carrying and handling firearms varies in accordance with the mechanical characteristics of each gun. Since guns can be so different, never handle any firearm without first having thoroughly familiarized yourself with the particular type of firearm you are using, the safe gun handling rules for loading, unloading, carrying and handling that firearm, and the rules of safe gun handling in general.